One of the highlights of trekking in Nepal for our team has always been getting the chance to experience life in one of the tea houses scattered along the country's trekking routes. Recently I was asked to explain the tea house lodges of Nepal, a common question from guests visiting for the first time.
Realizing that a guide to the tea house accommodations of Nepal was in order, I started out the window of the South Asian coworking space that I am working out of these days daydreaming of past treks in Nepal. As I started to write, I couldn't help thinking back to my first tea house experience in the Himalayas…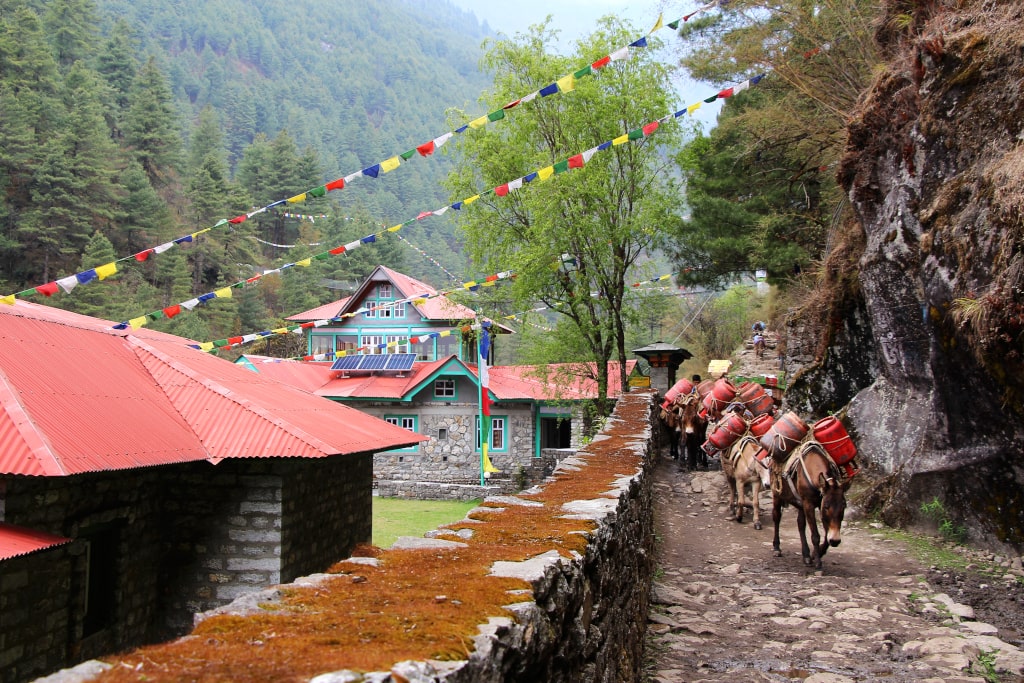 My First Tea House Lodge Experience in Nepal
It was my first visit to Nepal, and my senses were overwhelmed by the plethora of new experiences. After taking on a rather lively bus ride from Kathmandu toward a remote valley to the north, I followed my local guide Raju along the winding path in a pristine valley near the Tibetan border. The ancient stone stairs traced a cascading river swollen with the spring runoff from the glacier nestled in the peaks further up the valley. The trail was rather steep and I was starting to feel the elevation, but the views of the surrounding peaks were equally breathtaking!
Raju had tried to explain that we would be staying in "Tea house lodges" during our Nepal trek, but at the time neither I nor my french trekking partner had the slightest clue as to what in the world Raju meant! As I approached my first tea house, I honestly wasn't quite sure what to expect.
Raju greeted the Tibetan couple who would be our hosts, and they soon welcomed us in with a cup of chai. They showed us our simple yet clean rooms with a view of the nearby river and the looming peaks further up the route. Furnished with a bed, blankets, and a small table, the room even had to charge outlets that were run via solar power. The shared bathroom was clean and functional, with hot water available for a small fee. Raju had wisely instructed us to pack our own sleeping bags, which provided extra warmth once the sun vanished behind the peaks to the west.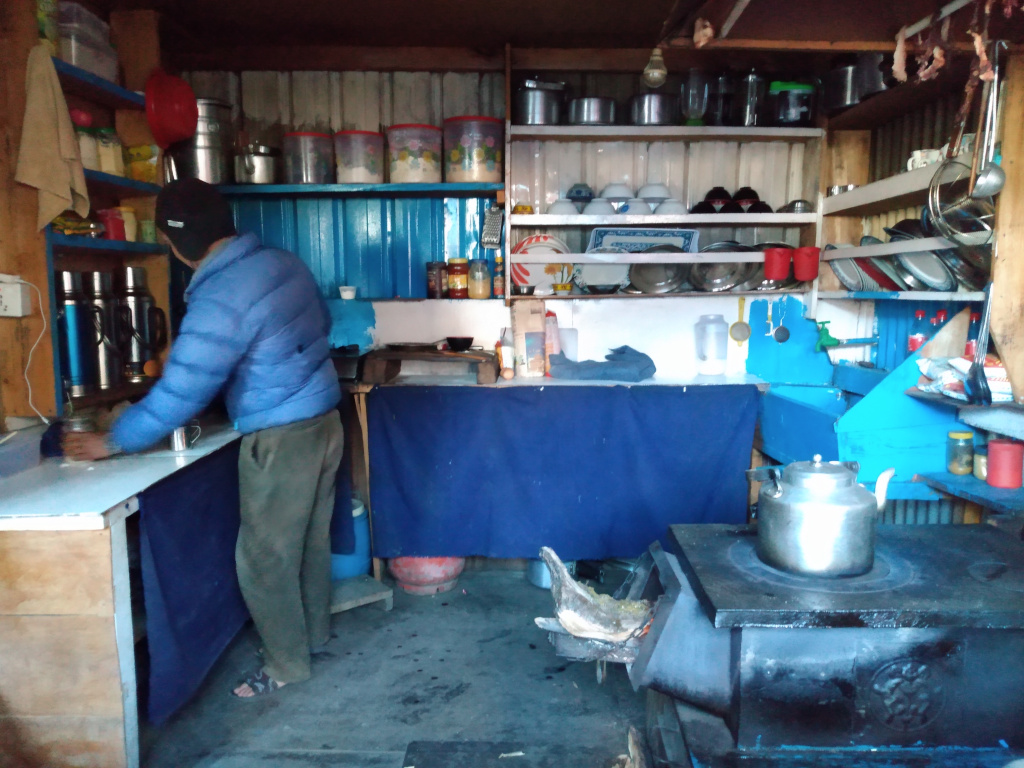 One of the best parts of our Nepali tea house accommodation was the atmosphere. The communal dining area of the tea house was an open room with simple seating, where travelers could relax, chat, and share stories. There was a team of Nepal medical students staying in the teahouse that night, who were on their way to drop off one of their classmates for his new assignment as the village doctor in a small settlement at the top of the valley. The family that ran the tea house was friendly and hospitable, and I enjoyed learning about their way of life and culture.
The father of the house, Kesang, sang a traditional Tibetan him while he offered water and lit lamps in the immaculately arranged Buddhist shrine on the far end of the common area. Meanwhile, his wife Jaya stoked a fire in the quaint wood-burning stove at the center of the room. At dinner, we all shared a seemingly endless array of local dishes and flatbread, and we finished off the evening watching the snow trailing off the cornices of the snow-capped peaks of Tibet to the North.
Tea House Trekking Explained
Back to the original question, "Teahouse trekking" simply means staying in local teahouses or lodges along the trekking route, instead of camping. Tea house lodges in Nepal provide accommodation, food, and hot drinks. They are found along most of the popular trekking routes in Nepal, from the Annapurna Circuit to Everest Base Camp. Teahouse trekking is a great way to experience Nepalese culture, meet the locals, and trek at your own pace.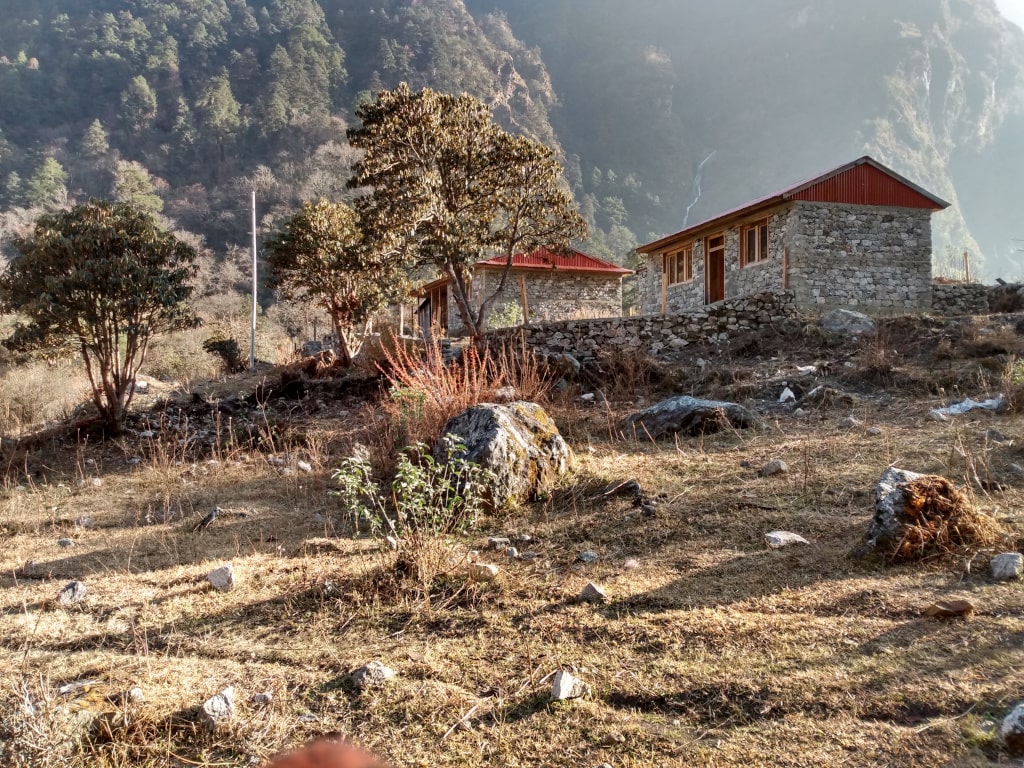 Why Choose Teahouse Trekking?
Tea house trekking is hands down the best way to go in the Himalayas. First and foremost, I find it way more enjoyable to trek with a light daypack, rather than carrying your own camping gear and food or abusing a porter by forcing him to carry unnecessarily heavy loads. Trekking in the high elevations of the Himalayas is physically exerting enough without adding on a full kit of camping gear. With teahouse trekking, you don't need to worry about carrying heavy camping gear, cooking food, or setting up a tent. Instead, you can simply relax and enjoy the trek, while your accommodation waits for you in the form of a fully stock rustic lodge perched upon the side of the mountain!
Tea house trekking is also one of the best ways to meet locals and experience Nepalese culture. If you avoid the excessively touristy routes and get off the beaten path a bit, your teahouse experiences will include a chance to try local food, learn about the history and culture of the area, and maybe even pick up a few words of Nepalese or Tibetan.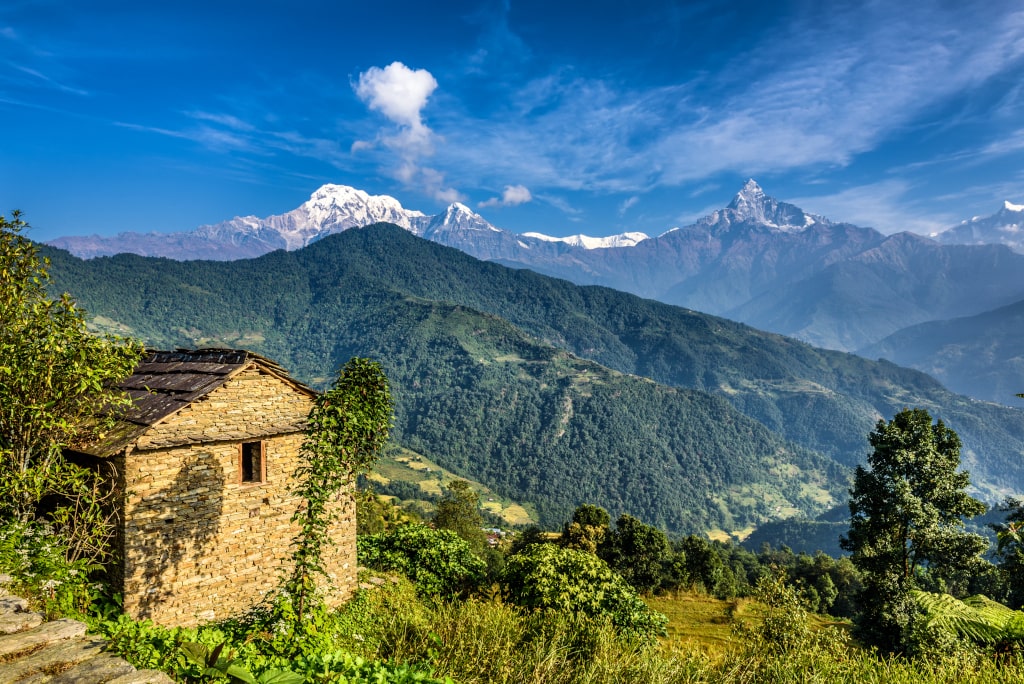 Tea House Accommodations
Nepal's Tea houses provide basic accommodation, which usually means a simple room with a bed and blankets. Depending on the location, the rooms may be private or shared, and they may or may not have electricity or heating. It's a good idea to bring a sleeping bag for extra warmth and comfort. It's also important to note that in remote routes and at higher elevations, the rooms may be very basic and rustic, but the views from 3,500 meters more than makeup for it!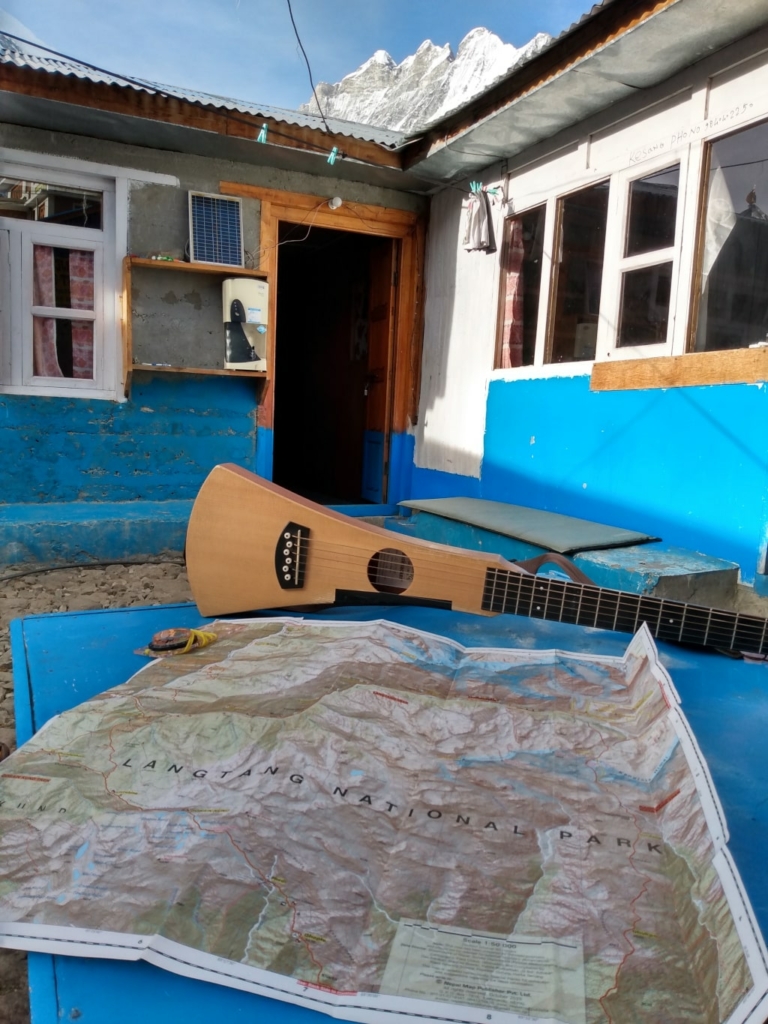 Bathroom Facilities
Tea house lodges in Nepal usually have shared bathroom facilities, which may be Western-style or squat toilets. These bathrooms may not be as clean or well-maintained as those you're used to backing home, so it's a good idea to bring your own toilet paper and hand sanitizer. Tea houses may offer hot water showers for an additional fee, while other tea houses occasionally have solar water heaters built in. It is preferable to avoid using hot water heated via wood burning if possible to avoid contributing to deforestation in fragile alpine environments.
Food and Drink
One of the benefits of staying in tea house lodges when trekking in Nepal is not having to carry your own food up thousands of meters! Most tea houses serve a limited menu of basic Nepalese and Tibetan dishes, such as dal bhat (rice, lentils, and vegetables), momos (dumplings), and noodle soups. The food is usually simple but tasty after a long day of trekking, and many tea houses will offer vegetarian options. However, it's important to note that the food may not be as varied as you will find in a restaurant in Kathmandu, and fresh fruits and vegetables are hard to find above 3000 meters.
Tea houses are also known for their warm cups of chai (spiced tea), which is a staple of Nepalese hospitality. Other hot and cold beverages, such as coffee, hot chocolate, and soft drinks, may be available for purchase as well.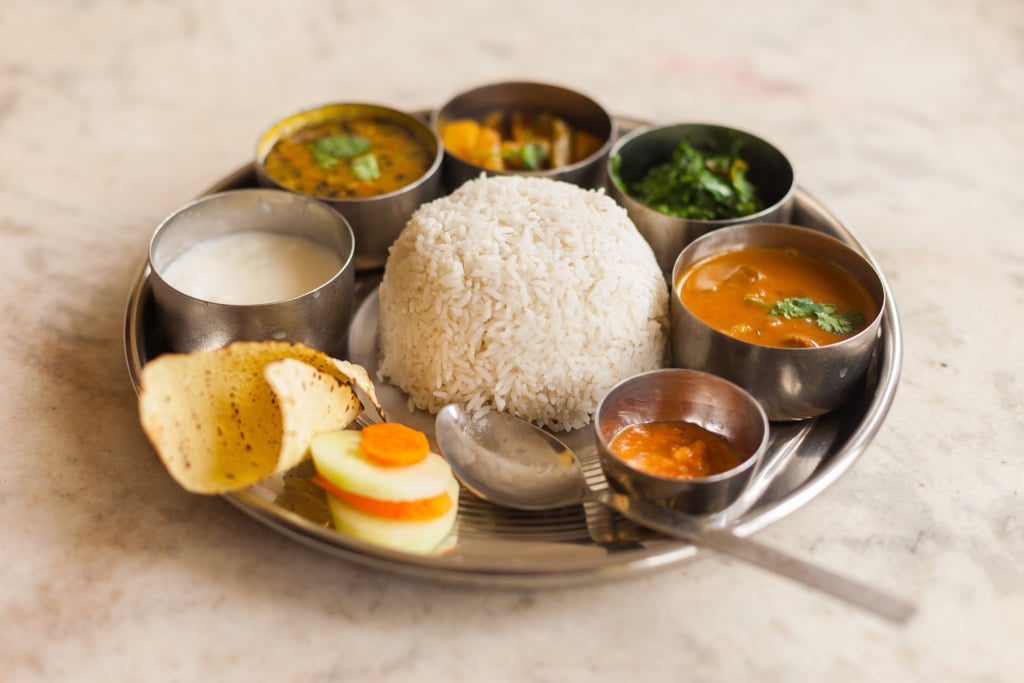 What to Expect
Tea house accommodations in Nepal are typically family-run establishments, and staying in one can give you a chance to connect with the local culture and people. Most tea houses have a communal dining area where travelers can relax, share stories, and enjoy a meal together. Some tea houses may also have outdoor spaces with stunning views of the surrounding mountains.
It's important to note that while the environment may be welcoming, it may also be basic and rustic. Electricity may be limited, and there may be no internet or phone signal. This can be a refreshing break from the hustle and bustle of daily life, but it's important to be prepared for the lack of modern amenities.
Our Team's Favorite Tea House Treks in Nepal
If you are looking to experience tea houses in Nepal for yourself, be sure to read some of the top itineraries for your next adventure:
Everest Base Camp
The Everest Base Camp trek is another popular teahouse trekking route in Nepal. The trek takes you through some of the most beautiful mountain scenery in the world, including the stunning Khumbu glacier. Along the way, you will stay in teahouses run by the Sherpa people, who are known for their warm hospitality and mountaineering expertise.
Langtang Valley
The Langtang Valley trek is a less well-known trekking route, but it is no less beautiful. The trek takes you through the remote Langtang Valley, where you will encounter traditional Tibetan villages and stunning mountain scenery. Along the way, you will stay in tea houses run by local Sherpa and Tamang families.
Manaslu Circuit
The Manaslu Circuit is a more challenging trekking route that takes you through the remote Manaslu region of Nepal. The trek is known for its stunning mountain scenery and traditional villages, where you can stay in teahouses run by local Gurung families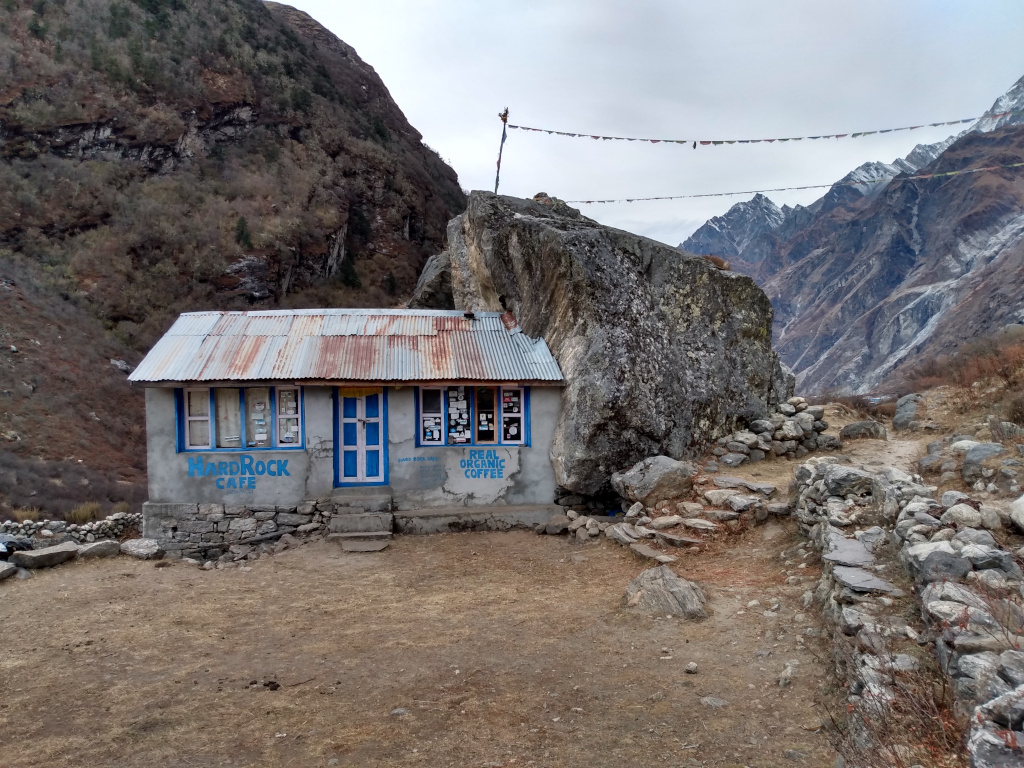 Ready to Experience Tea House Accommodation in Nepal?
Staying in a tea house in Nepal can be a unique and rewarding experience for travelers. However, it's important to set expectations and be prepared for a basic and rustic setting. Accommodations, bathroom facilities, food and drink, and the overall atmosphere may be different from what you're used to backing home, but it's all part of the experience. With an open mind and a sense of adventure, staying in a tea house can be the highlight of your adventure in Nepal! Feel free to drop me a message if you have any questions as you look ahead to your trek in Nepal.